A report by the U.S. National Business Group on Health (NBGH) found that in 2016, 22% of all companies had mindfulness training programs already in place, and another 21% planned to add a mindfulness training component in 2017. However, these numbers significantly increased in 2017. It is reported that 35% of all companies have a mindfulness training program already, with 26% considering it.  These companies are interested in increasing productivity, effectiveness, and well-being within an organization.
With this increased surge of interest in mindfulness in the workplace, there are many opportunities for certified experts to facilitate mindfulness training programs.  If you've already been certified as a mindfulness and/or meditation instructor, the Mindfulness@Work Facilitator Certification Training is designed to help you to leverage your expertise as a mindfulness trainer in a business environment. It's an advanced training to help meditation teachers bring mindfulness tools into the workplace to increase workplace wellness, satisfaction, and happiness.
The program is open to experienced meditation and mindfulness teachers with a certification from the McLean Meditation Institute's Meditation Teacher Academy or the Chopra Center's Meditation Teacher Training. 
In the Mindfulness@Work Teacher Certification Training, you will receive:
The optimal approach, curriculum, and structure for a corporate mindfulness training program
Professional presentation tools, speaker training, and secrets for presenting mindfulness to business leaders
A flexible curriculum with which to share mindfulness practices specifically designed for the worker and the workplace
Insight into the latest business cases and how to communicate the impact of mindfulness on bottom line profitability
The keys to creating a successful marketing plan for your business so you can clearly assess the marketplace and position your services
A solid plan to develop your business as a trainer, and insights into creating a sales pipeline
The benefits of advanced certification in the in Mindfulness@Work program include:
Joining the growing movement of professionals who teach mindfulness into the workplace
Receiving up-to-date mindfulness at work research stats, news, and case studies
Professional recognition and certification as an expert in Mindfulness@Work Training
Access to six months of coaching calls with Mindfulness@Work experts, including support to help you once you find opportunities to bring meditation into the workplace.
Expert advice as to what to charge, how to negotiate, and writing a contract
Opportunities to partner with leading experts on large-scale projects
FORMAT:
The format of the M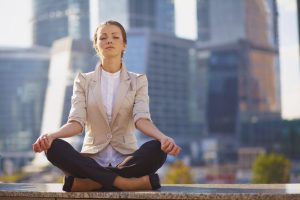 indfulness@Work Teacher Certification includes a distance learning module followed by a two-day intensive and post-certification support. 
The M@W Distance Learning component requires a 36 hours of  self-directed study and includes:
An online study guide & reading list with eight lessons
An 6-module Mindfulness@Work training curriculum
Live training webinars with workplace wellness experts
An online community to engage with for study sessions and support
The two-day M@W Intensive  is a 12-hour residential training held in Sedona, Arizona which includes:
A review of the 6-lesson program modules
Delivery of digital assets including PowerPoint, brochures, etc.
Review of the course manual
Current market research & business development
Creating a powerful sales pitch
Enhancing public speaking abilities
Keys to facilitating a powerful training
Find out more about the program. Listen to an informational call with the head program facilitator, Laurel Geise here.
TRAINING DATES: 
The pilot Mindfulness@Work Intensive is in progress, and the Intensive will be held  January 23 & 24, 2018 in Sedona, Arizona  (Tuesday and Wednesday after the Meditation Teacher Symposium.)  To be eligible to attend, registration must have been made by October 1, 2017, and the Distance Learning component must be completed by January 22, 2018.  There is now a waitlist for this Intensive. Please consider joining the next one below. 
The next opportunity to participate begins in February 2018, with the Intensive offered May 5 & 6, 2018  in Sedona, Arizona.   To be eligible to attend, you must register for the training by February 15, 2018, and complete the Distance Learning by May 1, 2018.
Another series begins July 1, 2018,  with the intensive on September 15 & 16, 2018 in Sedona, Arizona. To be eligible to attend, you must register for the training by June 15, 2018, and the Distance Learning by September 12, 2018.
PREREQUISITES:
This training opportunity is open to those who have completed a professional meditation teacher training program of over 200 hours. Currently, recognized programs include:
Chopra Center for Well Being (CCWB) Primordial Sound Meditation (PSM) Teacher Certification,
Center For Mindfulness (CFM) Certified Mindfulness Based Stress Reduction (MBSR) Certification,
McLean Meditation Institute (MMI) Meditation Teacher Academy.
COURSE FEES:
$1,999
After February 1, 2018, tuition is increased to $2999
The tuition includes your application fee, the online study guide, and the on-site training. It does not include assigned books, or your accommodations, meals, and travel.
The class size is limited to 15 teachers.
REGISTRATION:
Call MMI now at (928) 204-0067 and register today. Read the cancellation policy here.
TRAINERS: 
Dr. Laurel Geise, MBA, D.Min, combines 30 years as a leader in Fortune 500 companies, including C-level positions, with 20 years as an expert meditation instructor. Laurel was certified to teach meditation by Dr. Deepak Chopra in 1996 and has introduced thousands of people to the benefits of mindfulness and meditation. Specializing in global program development and deployment, she is uniquely qualified to consult with organizations to implement Mindfulness at Work Programs. As Founder and CEO of The Geise Group, her clients include a diverse range of organizations from Fortune 50 to Inc 5000, high tech to investment firms. In addition, Dr. Geise is a Master Trainer at Speaking Empire, an internationally recognized training company providing elite training to the best speakers in the world. She is an author, a radio show host on VividLife, and a professional speaker.
Stacy Thrash, owner and founder of PeaceBox: Mindfulness on the Move is a former corporate sales manager, certified meditation teacher, and a Co-Active (CTI) Professional Executive & Life Coach. She understands first-hand the stressful triggers inherent in modern day work environments and how Mindfulness training can reduce stress.  After 30 years in corporate sales management at two of the largest global education companies, Stacy became certified to teach meditation and mindfulness in 2014 at the McLean Meditation Institute's Meditation Teacher Academy in Sedona, Arizona.  Since then, Stacy has taught mindfulness and meditation to a variety of clients, including Whole Foods Market, Mellanox Technologies, Mecca Gym, and Lake Austin Spa, in addition to serving private individuals. She holds a Bachelor of Science degree in Psychology from Texas A&M.

Paige Davis is an entrepreneur, writer, cancer survivor, mindfulness facilitator, and meditation teacher.  She is the founder of Soul Sparks, where she leads and facilitates meditation and mindfulness programming for companies, teams, and individuals seeking more patience, productivity, and positivity. Paige is also co-founder of social impact brand, BlueAvocado. The company's thoughtful designs and creative solutions invite people to live a greener, simpler, and more mindful life. Paige is also a contributing writer for The Huffington Post and MindBodyGreen.'
CURRICULUM ADVISORS:
Sarah McLean, Curriculum Developer, Director of the Meditation Teacher Academy
Carol Studenka, MA, CMMI, Curriculum Assistant