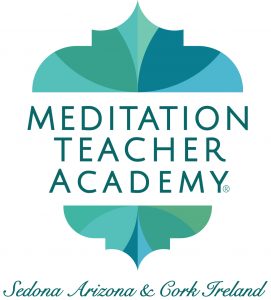 The Meditation Teacher Academy's training program is delivered in two components: a self-paced, distance learning module—the Meditation Foundation Course—followed by an 8-day, in-person Teacher Training Intensive. In total, it consists of 200 hours of training in the theory, science, teaching, and practice of meditation and mindfulness.
The Meditation Foundation Course
In the curriculum for the 150-hour, self-paced Meditation Foundation Course consists of readings, exercises, multimedia resources, and meditation and mindfulness practices.
Here's a sample of the topics that will be covered in the Meditation Foundation Course:
The history and modern day applications of meditation and mindfulness
What "meditation" is, and the myths and misconceptions of meditation
Various types of

 

mindfulness and meditation practices and their applications – what they are, when to use them, and why
When, where, why and how to meditate
The scientifically-proven physiological and psychological benefits of a regular meditation practice
Neuroplasticity, meditation, and the brain
How meditation trains your attention
The mind/body connection and creating overall well-being
Stress and its effects on the mind and body
How to shift the stress response from "fight or flight" to "rest and digest"
Experiences in meditation, including ways stress is released in meditation
Transcendental experiences in meditation
The spiritual side of meditation: mystic and wisdom traditions, awakened states of awareness, and self-discovery
How to create a sustainable personal practice and nourishing daily routine
Mindful communication practices
Setting up a personal retreat
Peacefinder Practices™ and so much more!
The Teacher Training Intensive
After you complete the Meditation Foundation Course you'll be ready for the Teacher Training Intensive, an 8-day immersion held in a retreat setting in the red rocks of Sedona, Arizona and also offered in County Cork, Ireland.
The Intensive is a deeply transformative 50 hour, 8-day retreat where you gain more knowledge, are immersed in meditations, experience gentle yoga, and practice teaching meditation. You can attend one of these upcoming Intensives in Sedona & Cork, Ireland. You choose which fits your schedule best.
March 2-10, 2018, at the Agave Resort, Sedona, Arizona
July 27- August 4, 2018, at the Agave Resort, Sedona, Arizona
October 12-20, 2018, at the Castlemartyr Resort, Co. Cork, Ireland
November 30-December 8, 2018, at the Sedona Rouge Resort, Sedona, Arizona
March 22 – 30, 2019, at the Ivy House, Nashville, Tennessee
April 6-13, 2019, at the Castlemartyr Resort, Co. Cork, Ireland
July 12-20, 2019, at the Sedona Rouge Resort, Sedona, Arizona
September 2019, in Byron Bay, Australia (details to be announced)
December 6-14, 2019, at the Sedona Rouge Resort, Sedona, Arizona
More to come in 2020
Questions? Contact an admissions counselor: 928-204-0067
During the Teacher Training Intensive, you'll be individually coached by experienced meditation and mindfulness teachers (to learn more about the MTA Faculty, click here). You learn foolproof ways to teach anyone how to meditate, and you practice teaching what you learned in the Meditation Foundation Course.
You'll receive a high degree of specialized training in the experience, knowledge, skills, and presence necessary to teach various meditation practices, including these techniques and more:
Body/Breath

 

Awareness Techniques
Heart-Centered Breath, Visualization
Self-Inquiry Practice
Silent Mantra Meditation
Mindfulness Meditation
Peacefinder Practices
Loving Kindness Meditation
Gratitude Meditation
Mindful Eating Meditation
Mindful Walking Meditation
You'll also be certified to teach the Simple, Easy, Every Day Meditation program. S for simple, E for easy, E for every, and D for day, SEED Meditation®. It's a powerful daily practice suitable for anyone. The practice includes many of the techniques listed above.
You not only learn a foolproof method to teach meditation and mindfulness, you'll also learn how to get up and effectively share what you know with an audience. You'll be coached by powerful speaking professionals who will help you enhance your presentation and teaching skills, no matter what level of experience you might have. This coaching aspect of the Intensive is what distinguishes the Meditation Teacher Academy from all other meditation teacher certification programs out there.
Once you complete the program, you'll be ready to confidently offer effective and powerful meditation instruction to your clients, friends, and community so they, too, can enhance their mental, physical, and emotional well-being. You can:
Offer meditation and mindfulness classes
Lead group meditations and introductory lectures
Facilitate discussions and book study groups
Organize and run retreats
Bring meditation into the workplace with a workplace wellness program
Teach kids and bring meditation into the classroom
Teach special populations (including veterans, corporate, and 12-step)
Discover what you need to succeed in the business of meditation—including how to share meditation and mindfulness with various populations in a variety of settings, enrollment procedures, and student/client follow-up communications, what to charge,  marketing strategies and media relations.
Once You Graduate….
Upon successful completion of the program, you'll receive a certificate of completion and will have everything you need to teach anyone who wants to learn how to practice mindfulness and meditation.
Students will come to you looking for more inner peace, creativity, inspiration, harmony in relationships, fulfillment, better health, self-awareness, or to enhance his or her spiritual practice. And you'll be prepared to say "yes" when you are asked to teach—whether you're invited to present during a lunch-and-learn at a corporate headquarters or in a classroom full of kids who want an experience of mindfulness.
If you choose, you can be listed on our Find a Meditation Teacher page.
Questions? Contact an admissions counselor: 928-204-0067
Check out the 2018 MTA Course Catalogue