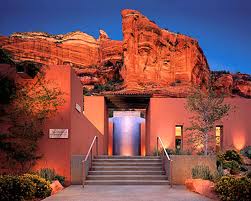 April 9-13 & December 10-14, 2017
Mii amo Spa at Enchantment Resort in Sedona, Arizona
Go on retreat to a world-class destination where holistic rejuvenation is an inspired, transformative event with Sarah McLean. She has been invited to present the Self-Love Retreat at Mii amo. It's a world-class spa destination and is the perfect place to unplug, be nourished by nature, and receive deep personal healing.
Join Sarah in a four day, all-inclusive retreat where you'll stay in the most beautiful private room, enjoy two spa treatments daily, and delight in delicious, healthy meals. Read the full retreat program description below.
For more information, or to register, visit miiamo.com/arizona_spa_experiences/retreat_packages or call (844) 993-9518.
Program Description:
Self-love is an essential ingredient for a life of fullness and peace. When someone has a healthy amount of self-love, their life gets better: their relationships improve, their well-being and vitality increase, they make more nourishing choices, and they are open to receive the best that life has to offer.
Self-love is simple, but isn't always easy. Being on a spa retreat and carving out time for self-care is a great start toward loving yourself. But there is more. Self-love involves exploring your inner landscape, falling in love with who you really are, and discovering how to truly take care of yourself mentally, emotionally, and physically.
The goal of this program is to give your insight and practices to maintain your self-love long after you return home. It consists of three modules:
Getting to know the real you and the peace that you can access in any moment.
Falling in love with yourself and creating more intimacy with your inner landscape.
Living with gratitude and confidence, expressing yourself clearly, and seeing the world through loving eyes.
Who Are You Really? Creating More Intimacy with Yourself
In this first session, we'll take a journey into your interior realm. Through guided meditations, dyads, and conversation you'll begin an exploration into the questions: "Who am I really?"
You'll discover and connect with the deep, essential part of you—the you outside of the roles you play, the responsibilities you have, the pressure you put on yourself, and your relationships in your life.
You'll explore the way your brain works, how you focus your attention, and how you make the choices you make.
You'll be guided through enlightening mindfulness exercises designed to eliminate stress, train your attention, and enhance your ability to savor life.
You'll explore how you personally respond to stress, and examine your habits of mind and body that keep you stuck and stressed.
You'll learn how to prevent stress from accumulating, and ways to respond to stress when it occurs.
You'll discover how to create a "new normal" and how you can live life from a new centerpoint of peace, awareness, and engagement.
There is a short journaling exercise to do on your own before for the next session.
Affirm Your Greatness: Falling in Love with Your Self
In this session you'll discover the answers the question, "How can I best love myself?"
You'll discover the essentials of self-compassion and what it takes to be kind to yourself, whether while on vacation or back in your everyday life.
You'll become more aware of your inner dialogue through mirror exercises, examining what keeps you from loving yourself, and how to replace negative self-talk with loving self-talk through affirmations.
You'll be guided into a Loving Your Body exercise to establish a deeper, loving connection with it and its wisdom.
You'll learn the importance of feeling your feelings rather than suppressing, ignoring, or over-reacting to them, and explore how you treat yourself when you feel angry, anxious, sad, or depressed; or hopeful, excited, or happy.
Through journaling exercises, guided meditations, and self-inquiry practices, you'll reveal, reclaim, and embody those hidden qualities that you admire in others.
You'll explore what it takes for you to fall in love and how you want to be loved.
You'll begin to develop your own personalized guide to self-love, a recipe with the ingredients you've discovered thus far in the program.
Walking in a Wonderful World: Discovering How Life Loves You
In this session you'll explore answers to the question, "What is my heart's desire? What do I really, really want?"
You'll learn simple, proven gratitude practices to enhance your mental, physical, and emotional well-being.
You'll discover your body's wisdom and how it communicates with you—a communication unique to you and your sensitivity.
You'll explore relationships: who and what is most important to you, where you experience nourishment or toxicity, and clarity regarding your boundaries.
You'll learn to trust and honor your deep inner knowing and respond to it through expressing yourself, taking action, or making a choice with integrity.
You'll be guided into fun exercises to practice expressing yourself sweetly, clearly, and with integrity—saying "no" to the people and commitments that don't nourish you, and "yes" to who and what does.
You'll discover simple ways to create personal moments of sanctuary each day to maintain your inner peace.
By the end of the program you'll truly understand the importance of loving yourself. With the insights you discover, the ah-ha moments you experience, and the practices you learn, you will have everything you need to cultivate more self-love to live a life of more freedom, awareness, clarity, creativity, receptivity, and gratitude.
For more information, or to register, visit miiamo.com/arizona_spa_experiences/retreat_packages or call (844) 993-9518.