Books & CD's 
Sarah McLean, Author and Meditation Instructor
Soul-Centered: Transform Your Life in 8 Weeks with Meditation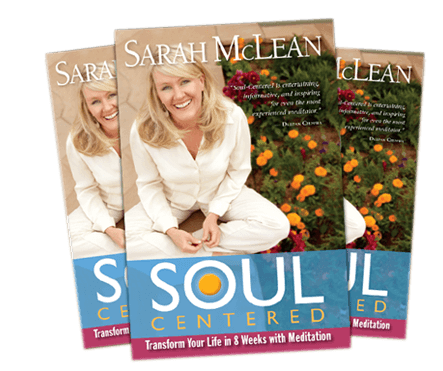 Soul-Centered is entertaining, informative, and inspiring, even for the most experienced meditator.
— Deepak Chopra
Sarah McLean's first book, Soul Centered: Transform Your Life in 8 Weeks with Meditation will help you to find just that.
She wrote this book to make meditation simple and easy for anyone. You will learn the 5 Essentials to a successful meditation practice, along with step-by-step instruction in a wide variety of meditation practices, including an eating meditation, a number of walking meditations, and a variety of seated silent meditations. You'll also discover the many transformational effects of meditation, which include becoming more self-aware, becoming more joyous, being less judgemental, treating yourself and others with more compassion, feeling more connected to your true self, expressing yourself more honestly, receiving the gifts of your life, and establishing a nourishing lifestyle.
Sarah shares her stories about her meditation journey—meditating in temples in Japan, living and chanting in an ashram in India, and being a head cook in a Zen Buddhist monastery in the wilderness. This journey into meditation took her around the world and totally transformed her life. Though she traveled around the world to find the best and most authentic meditation practices, you don't have to. You'll find them compiled in this 8-week program, perfect for those just beginning a meditation practice, or for those who want to deepen their existing experience.
 Meditation Audios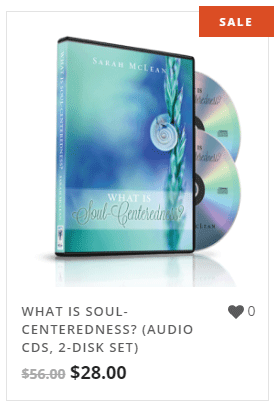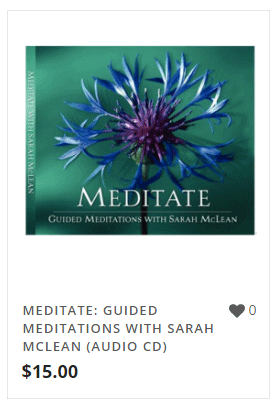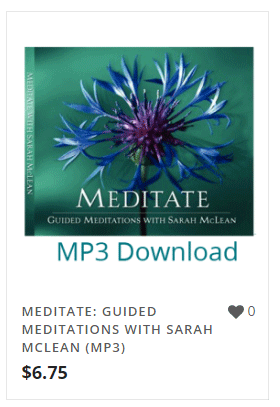 Sarah McLean's CD is packaged in 100% recycled packaging, a portion of the proceeds from the sale of the CD goes to animal rescue agencies.
Interested in buying the products wholesale? Order five or more and get a deep discount. Email info (at) mcleanmeditation.com for wholesale orders or call 928-204-0067.