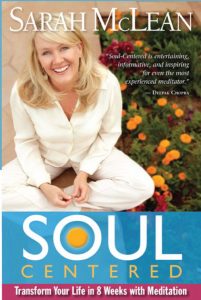 Transform Your Life with Meditation in this Powerful Study Group in Sedona
Join a 9-week book study group. Explore the various approaches to creating a meditation practice and a more mindful life. You'll be guided into the easy-to-follow program found in the best-selling book by Sarah McLean, Soul-Centered (read more about it here.) Explore and deepen your meditation practice an develop a new perspective. Become more self-aware, mindful, compassionate and peaceful in 9 weeks!
The study group is facilitated by MMI Certified Meditation & Mindfulness Teacher, Carol Studenka, who's worked with Sarah McLean at the Institute since its inception. She's developed curriculum and is a meditation mentor to students in the Meditation Teacher Academy. Carol moved to Sedona after retiring from her 30-year career as a high school teacher in Detroit. She loves to inspire others to deepen their meditation practice and to learn to love themselves more.
Offered Saturdays, February 4 – April 1, from 1 – 2:30 pm. The cost is $195 for the 9 week series, or drop-in for $22 for a session.The study group is held at the McLean Meditation Institute.
When you regsiter for the entire series, you'll receive your own autographed copy of the book.
Each week offers a new insight and you can take the whole series or simply drop in when you are free.
Introduction & Welcome Intentions & Essentials for Success
Week 1  Awareness: Be Here Now
Week 2  Peace: Stress Less

Week 3 Freedom: Begin with a Beginner's  Mind

Week 4  Compassion: Love Yourself

Week 5  Intimacy: Connect to Your Soul

Week 6  Authenticity: Communicate Honestly

Week 7  Receptivity: Look for What Matters

Week 8  Nourishment: Transformation
"Soul-Centered is entertaining, informative, and inspiring for even the most experienced meditator." – Deepak Chopra
For more information, or to register, email events@mcleanmeditation.com or call 928-204-0067.    Sign up for Soul Centered Book Study Group here