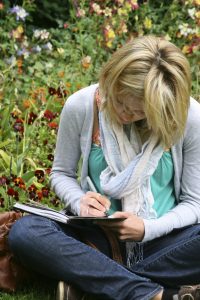 The Creative Soul Women's Writing Retreat helps women access their true creativity. You don't have to be especially artistic, poetic, or clear. You simply need a desire to write and delve into self-awareness—if only for a weekend.
For many, writing is a spiritual practice which leads to a profound experience of timelessness. A single moment of inspiration can become an eternity. The same is true of meditation. For those who practice meditation, life can be transformed physically, spiritually, and emotionally. Meditation allows the veil of stress to lift so you can connect with your true nature and commune with your creative soul.
Best-selling Hay House author Sarah McLean leads participants into provocative mindfulness practices, deep meditations, and expansive writing exercises to express their creative soul. She'll show you how to listen to and trust your creative soul, explore your imagination, transcend your inner critic, and spontaneously express yourself from the womb of creativity. You'll write, listen to yourself, and be heard—perhaps for the very first time.
The retreat is also held in several magical places: Big Sur, California; Sedona, Arizona; and Teton Valley, Idaho. Each environment is nourishing and powerful, and a perfect place for transformation.
Creative Soul Women's Writing Retreat: December 9-10, 2017, Sedona, AZ
This retreat takes place at the McLean Meditation Institute, see 
Retreat Schedule (subject to change):
Saturday  9:00 am–5:00 pm, with a lunch break
Sunday 10:00 am–12:30 pm
Women with any level of meditation and/or writing experience are welcome. All that's required is your willingness to explore your awareness and all that is unseen. The program includes instruction in Simple, Easy, Every Day (SEED) Meditation.
The retreat fee does not include your transportation, meals, or lodging. You'll receive confirmation by email with more information. 
Early Registration $325 (21 days in advance)
Registration $355
Retreat Alumnus Registration Save 15%
Companions, take 10% off when you register together
Full payment is required to reserve your space, and can be made by check, MC or Visa, or send to Pay Pal to PayPal.Me/mmisedona
Three ways to register for the retreat:
Accommodations, meals, and transportation are not included in the meditation retreats fee. Go to our Sedona Resources page for information about visiting Sedona. View the meditation retreats cancellation policy here.