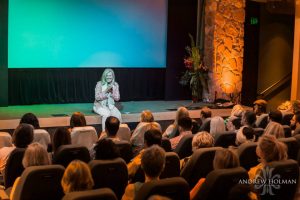 "I am dedicated to doing what I can to create more peace on this planet, for every living being. I believe that when people learn how to meditate and practice every day, they are able to expand their awareness and cultivate their own personal peace. When each one of us is peaceful, it creates a more peaceful planet for everyone." – Sarah McLean
Sarah McLean is a contemporary meditation and mindfulness teacher who has been inspiring people to meditate for over 20 years. With kindness and humor, Sarah shares her secrets to creating a successful meditation practice and how it can lead to increased self-compassion, clear communication, and a more peaceful life. She's taught thousands of people to meditate over the last 20 years including Olympic and professional athletes, rock stars, and presidents of Fortune 500 companies, along with moms and dads and even young children. She loves to teach people how to meditate and live a more mindful life.
Sarah first learned about meditation while training in the U.S. Army as a Behavioral Specialist to help soldiers address Post-Traumatic Stress Disorder. After the Army and college, Sarah took a nine-month mountain bike journey from Europe to Asia seeking secrets to peace and fulfillment. When she returned, she began her daily meditation practice and studied mind/body health with Dr. Deepak Chopra. She worked with him as the Program Director for the Chopra Center for Wellbeing in California.
Eight years later, Sarah went to live in a traditional ashram in South India for six months so she could discover for herself the origins of medtiation. She then became a two-year resident at a remote Zen Buddhist monastery for two years. In 2001, she settled in Sedona, Arizona and founded the McLean Meditation Institute, a center which offers meditation and mindfulness classes, weekend meditation retreats, and a 200-hour teacher training program, the Meditation Teacher Academy®, a licensed, post-secondary educational facility that trains meditation and mindfulness teachers worldwide.
Sarah is a popular facilitator at retreats for the Chopra Center, Esalen Institute, and many world-class destinations. She has been interviewed on national television, featured in a variety of award-winning movies, and her work has been touted in the New York Times, Chicago Tribune, Washington Post, and Los Angeles Times. Her best-seller, Soul-Centered: Transform Your Life in 8 Weeks with Meditation (Hay House), has inspired study groups worldwide. Her newest book, The Power of Attention: Awaken to Love and its Unlimited Potential with Meditation  (Hay House) was released in 2017.
Speaking Engagements with Sarah McLean
Sarah McLean offers inspiring presentations and leading-edge workshops on the most important areas of stress management and stress reduction. A dynamic teacher and Hay House author, she has reached thousands of people around the United States and worldwide. She is often sought after as an expert on meditation and its benefits, and has been featured on numerous television shows and in articles for national publications, including the New York Times, Fox News, and Prevention magazine.
Her highly-interactive programs have captivated audiences of healthcare professionals, judges, educators, architects, accountants, counselors, and physicians, to name a few. She has been an invited speaker at colleges, professional association gatherings, hospitals, chambers of commerce, corporations, churches, community groups, and service organizations.
Sarah shares the latest scientific findings of stress reduction, meditation, and mind/body health, along with practical tools and inspirational stories. She can also appear virtually through teleclasses or webinars. Email info@mcleanmeditation.com or call 928-204-0067 us to schedule an event with Sarah McLean.
Presentations: Healthy Living Through Meditation
Sarah's primary presentation message is how two live a stress-free, healthy, and fulfilling life through meditation. She can speak for as little as 20 minutes, or can offer a full day or weekend program. Her programs have been used successfully by thousands of people looking for more satisfaction in their lives. Some popular presentation themes are listed below.
Meditation for Anyone, Anywhere, Anytime
Discover the keys to becoming more self-aware, more intuitive, and more compassionate through meditation. Sarah's unique style and expansive background leads participants on a path to a confident meditation practice and discovering their authentic selves. In this experiential workshop, Sarah shares time-tested meditative practices, and the latest scientific findings surrounding meditation. In this presentation you will:
Find out why a daily meditation practice is effective for changing the neuronal pathways of the brain, resulting in a lasting transformation.
Learn the three requirements and five essentials to establish a successful meditation practice.
Discover how to manage the ever-busy mind and to focus your attention, anytime, to make lasting changes in your outlook and self awareness.
Find out how you can become more soul-centered and experience ease and joy, regardless of circumstances.
What if the quality of your attention equaled the quality of your personal power? Discover the source of your attention, and find out how training your attention can be essential to living a soul-centered life. Sarah will show you how to take charge of your own attention, and help you to glimpse its source. What you pay attention to is what you will find in your life, so this practice focuses on three concepts:
Being more aware of how you focus your attention: through experiential exercises, including meditation and mindfulness practices, you'll learn how and why meditation enhances your ability to focus, and how to choose what to focus on.
Keeping your attention in the present moment: learn ways to change your default thinking patterns and bring your awareness back to the here and now.
Becoming more self-aware: enhance your intuition, listening skills, honesty, and sincerity and live with soul-centered integrity.
The Attitude of Gratitude
Discover how being grateful and appreciating life can create more success and happiness. Grateful people have higher levels of positive emotions and more vitality and are more satisfied with life. They're also more compassionate and feel a responsibility and connection to others. In this presentation, the audience will:
Discover easy, practical ways to shift perception from grievance to gratitude.
Explore the recent scientific studies showing that appreciating life enhances one's health and well being at work and home.
This presentation includes guided gratitude meditation.
Improve the well-being of your workforce. Leaders and teams alike will learn how to eliminate the stress caused by the body's response to change, pressure, or threats to well‐being. Attendees learn to recognize and relieve the causes and symptoms of stress through practical mind/body relaxation techniques, including meditation and breathing practices, to improve their overall health and job satisfaction. This presentation will serve to increase your organization's productivity.
Sarah McLean will often speak for a minimal fee (plus travel, meals and lodging expenses) to the following groups:
Chambers of Commerce
Local Professional Associations
Lifestyle Conferences (where no one is paid)
Teleseminars and Webinars
Educational Institutions
Television & Radio shows (where no one is paid)
Sarah receives an honorarium for presentations at:
Annual Meetings
Conferences (where speakers are paid)
Professional Associations (out of the area)
In-house programs for larger service businesses
Past Events with Sarah McLean